Brows of a Feather is the Sunshine Coasts leading Specialist in Eyebrow Tattooing. We practise in the highest standards of eyebrow artistry tailoring services that deliver exceptional results and renewed self confidence.
Erin Stuart is an award winning artist with over 15 years experience providing beauty services. Following a successful career in Australia, Erin travelled the world servicing clients throughout the UK and Europe. Since returning to Australia Erin has provided makeup services and trained and practised in cosmetic tattooing.
Whilst Erin is trained in many forms of cosmetic tattooing, she believes that to deliver the best results, it is important to chose your niche and specialise in the form you are most passionate about. This is what Erin has done with Semi Permanent Eyebrow Tattooing. As an exclusive Brow Tattoo technician, Erin has been able to develop a level of skill and artistry that provides her clients with a highly satisfying experience and unparalleled results.
The Brows of a Feather Studio was specifically built to cater for the Feather Touch & Ombre Mist Brow procedures and maintains a Personal Appearance Standards License issued by the Sunshine Coast Council. Brows of a Feather is a  registered member of the Cosmetic Tattooing Association of Australia and maintains the highest  standards of hygiene.
All materials used are disposed of following each procedure including the hand held micro blading tool / tattoo needle. This ensures all Brows of a Feather clients are only exposed to materials and tools that are contained within sterile packaging that is only breached immediately prior to their procedure.
Feather Touch Brows
'Feather Touch Brows' is a semi-permanent hair tattooing technique that will blend, thicken and enhance your natural brow shape to give you a fuller and more defined natural looking brow. The feathered hair strokes are delicately placed throughout the eyebrow area to mimic your natural eyebrow hair. The procedure is done with a hand held tool called a micro blade which gives the illusion of fine hair-like strokes.
Ombré Mist Brows
'Ombre Mist Brows' is a semi-permanent eyebrow tattooing technique that will give the illusion of a lightly powdered in brow. The pigment is deposited into the skin using a pixelated / dotting technique that leaves a soft mist of colour on the skin once healed. Colour density can be built up heavier in areas such as the arch & tail for a more bold or defined result if desired. This is also a great option for clients with oilier skin types.
The Procedure
Erin believes that these procedures best enable her to enhance her client's natural beauty. It is also one that supports her philosophy that beauty services should define your personal features whilst preserving a look that reinforces your natural beauty. We reshape the eyebrows to frame your eyes and highlight your facial features. Every treatment is uniquely customised to suit the individuals personal preferences.
Frequently Asked Questions
Pricing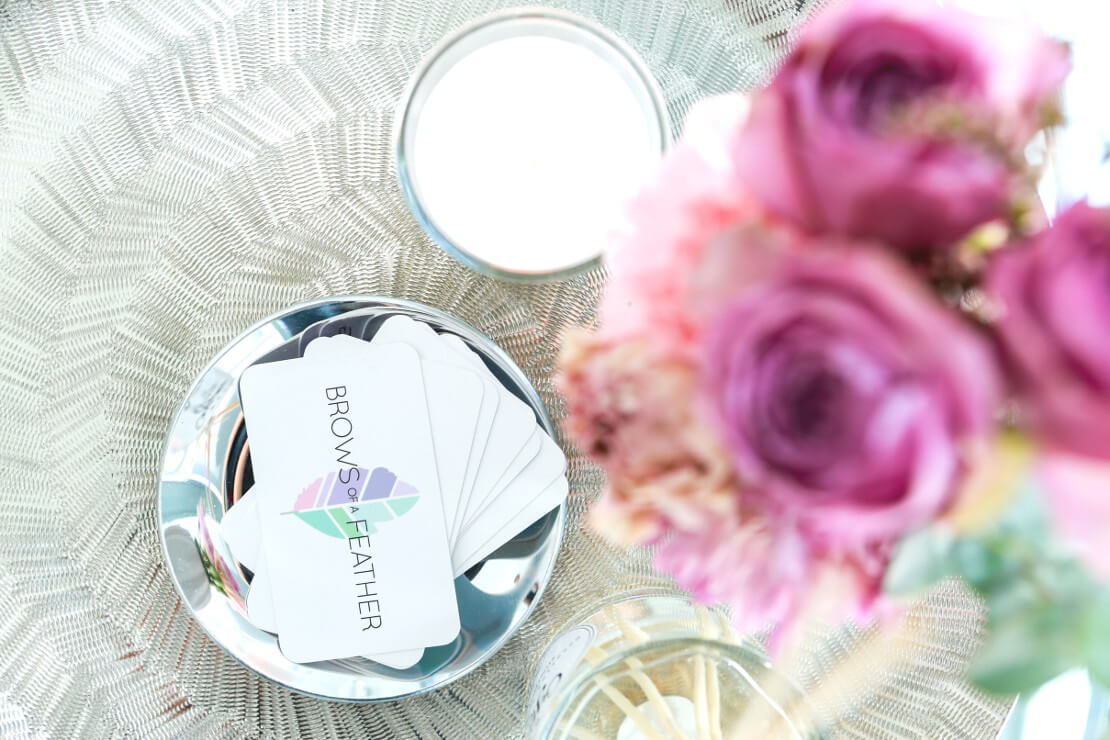 DESIGNER FEATHER TOUCH / OMBRE MIST BROWS
Including a perfection visit that must be done within 4 – 8 weeks  – $835 (inc GST)
*As a returning Brows of a Feather client, my loyalty rates will then apply –
BROW REFRESH
within 12 months – $435
BROW REFRESH
within 18 months – $535
ADDITIONAL TOUCH UPS
within 4 – 8 weeks – $120
(Although it is very rare, some people may require an additional touch up after their perfection or refresh visit)